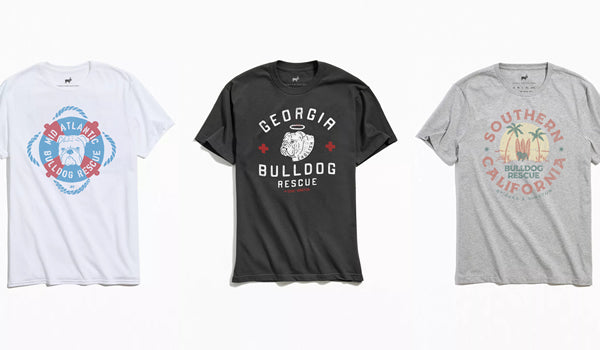 D&W x Bulldog Rescue Collaborations
We are huge bulldog people here at D&W (obviously). We also have a lot of love for bully rescues & the work they do with limited resources & funds to take in, care for & find homes for abandoned bulldogs. 
Bulldogs are notorious for having health problems & the yearlong pandemic has only increased the rate of abandonment by owners not prepared for the special task of raising this special breed. 
We decided to help out & partnered up with a few of our favorite bulldog rescues to develop a series of collaboration shirts to help accomplish two things: Provide rescues with cooler/more fashionable gear for their supporters to wear & assist in raising funds for rescues to continue their invaluable work.
Pilot Rescue Partners: Georgia Bulldog Rescue, MidAtlantic Bulldog Rescue
Lone Star Bulldog Rescue, Southern California Bulldog Rescue

Campaign Details
D&W is responsible for design, printing & shipping of collab tees & will be donating all proceeds after costs (about $20 a tee) back to rescue weekly. Shirts will be selling on pre-order & will begin shipping March 1st. Reserve yours today & thanks for your support.