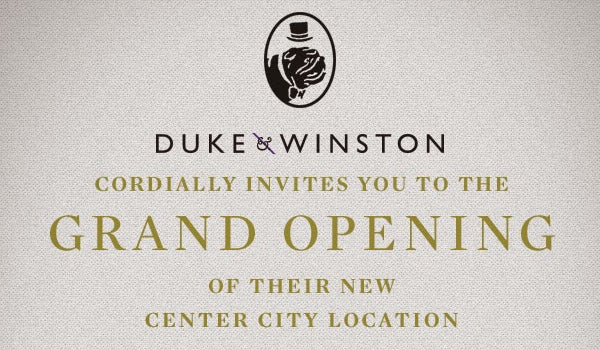 After a month of (semi) secretly moving, we are proud to announce the opening of our new flagship store, right in the heart of center city Philadelphia.

BACKGROUND 
We've come a long long way since setting up shop in my apartment in 2012 and slowly growing the brand at over 100 small trunk shows all over the east coast. Throughout all the 20 hour workdays, sleepless nights and the general startup ups & downs, the number 1 reason we are here is due to the support of our super loyal customers and groups that have given us the extremely crucial funding we've relied on to get to this point (Heather Hanowitz at Finanta, Patricia Blakley at Merchants Fund & especially all our kickstarter donors).

 Not only have we become Philadelphia's premier casual men's line (and gaining a rapid national following), we have moved out of the olde apartment in a 2600 sq ft storefront on one of the best retail blocks in the entire city (next door neighbors to Boyds which is as big as it gets).

As with almost everything I have gotten myself into over the years, the incredible way we secured on of the top available retail spots in the city is pretty unbelievable but I'll be sure to share that story soon (special thanks to David Neff at Neff & Associates for pretty much making the whole thing happen)

LAUNCH PARTY 
Since it can't be official till we have a signature D&W party, we invite friends & fans of The Duke who have supported & watched us grow over the years to come celebrate with us at our Grand Opening party, Wednesday June 11th from 6pm - 9pm. As the only Philadelphia based men's casual line in center city we will even have a representative from the mayors office on hand for the ribbon cutting. Like any good D&W party, we are going all out, catering by DIBRUNO'S and DEL FRISCO'S and sponsored by VICTORY BREWING & PERONI.

Duke will be decked out in his finest bowtie so come out, eat, drink and help us celebrate the next phase of Duke & Winston.
Thank you all again for supporting over the years and major things to come for D&W.